20 must-have productivity tools for a remote worker
This post is written by Mohit Mamoria, Co-founder & CEO of Mailman. A Gmail plugin that spaces out the delivery of your emails, so you only get emails at designated times. This helps you spend less time in your inbox, and more time doing quality deep work. You can sign up for a free trial at mailmanhq.com
---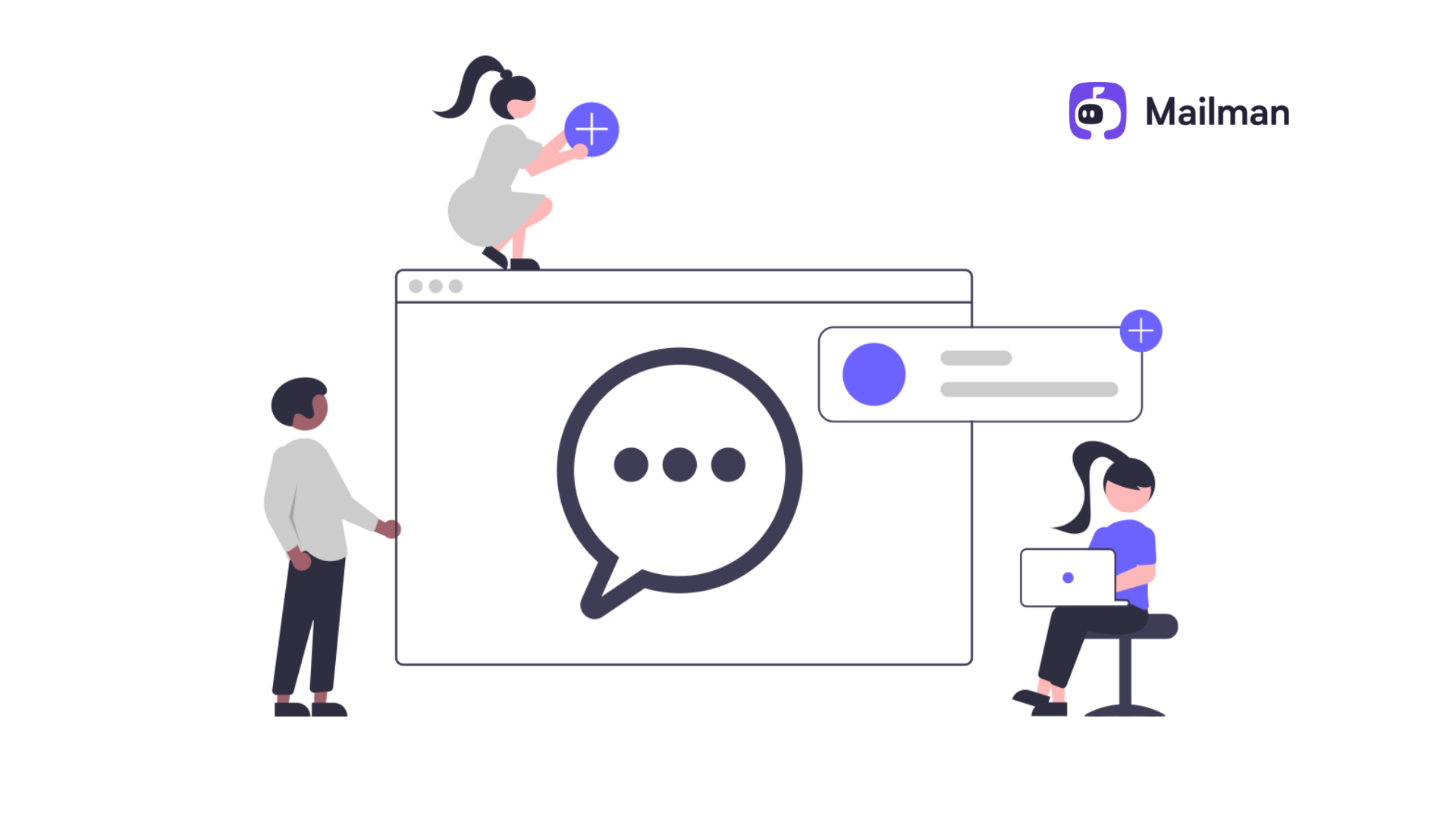 Remote work is here to stay. Studies do show it makes us more productive. But, you've to use the right set of tools.
If you don't, it affects both your work and personal life. Because you're on your own. No one is there to manage your time and plan your tasks. You're accountable for yourself.
That's where the productivity tools come to help you manage your time and keep your work organized. What are they?
In this blog, we'll go through 20 easy-to-use remote productivity tools to stay productive. And, get more done doing less.
20 must-have productivity tools for a remote worker
1. Mailman
Emails are important. It's become a necessity for a remote worker. But, over-checking emails distracts us from our work. It robs us of our deep work sessions. Research even suggests a user takes 30 mins to refocus each time they get distracted. Is there a way out? There is.
Mailman is an email management software. It lets you:

- Preset a Do Not Disturb mode. Choose a time slot you don't want to receive emails. Mailman will pause all emails during that period.
- Receive emails at a set time. Set timely intervals and receive emails only at that time.
- Block spam and unknown senders that suck your time. Mailman will you a daily digest of all the blocked emails. You can even unblock them if you want to.
- Have a VIP list. Some emails are important. You have to read it as soon as it is sent. Group a list of essential senders, keywords, or domains you always want to receive emails from. Read it as soon as it is sent.
Website: mailmanhq.com
Best use case: Get complete control over your emails. Use it to take your inbox to zero. Be productive at work.
Here's how to get started with Mailman
2. Roam Research
Note-taking is essential for remote workers. You've to keep notes on everything: meeting discussion, feedback to implement, assigned tasks, and more. If not kept a proper record, the thoughts can be lost. But, fortunately, we have Roam Research.
Roam Research is a note-taking tool for networked thought. Think of it as your second brain. You can link two thoughts together. Define the relationships between them. Discover content that is linking back to what you're currently working on.
It will help you discover fresh ideas between two new pieces of information. The way how your brain links two thoughts to learn something. It makes connecting ideas easier than ever. No more wasting time thinking about why you noted down a point.
Website: roamresearch.com
Best use case: Use it for research, goal planning, and tracking.
Getting started with Roam Research
3. Zapier
There are certain repetitive tasks. You're better off automating them. Like when you hire anyone, you've to update their name on the Slack channel.  Or when a team member sends an email to make a note of it. You can note it down in your note-taking app.
Zapier lets you do this. Save your time from doing boring manual tasks. Spend it doing creative work. No previous knowledge of coding is required to automate your tasks. Create integrations with easy drag and drop to set up triggers and actions.
Zapier supports 3000+ apps. Automate all the tasks on Gmail, Google Drive, Notion, Airtable, Slack, and others.
Website: zapier.com
Best use case: Handle your repetitive tasks to Zapier. Focus on more important work that demands your creativity.
4. Krisp.ai
Use Krisp to remove any annoying background noise during your online meeting. Nobody will hear your crying baby, traffic noise, sound echo, or any other noise.
Krisp cancels unwanted noise from both ends during your conference call in real-time. Other features include:
- Works with 800+ apps like Discord, Zoom, Google Meet, and other video apps.
- HD sound quality
- Virtual background
- Instant audio recordings of your meeting
Website: krisp.ai
Best use case: Remove any noisy distractions during your virtual calls.
A detailed guide on how to use Krisp
5. Clockify
The best way to be productive is to track your time. Clockify is a free time tracker and timesheet app that lets you track work hours across projects. It's compatible with all devices. Track time from anywhere - it's updated in real-time.
Some features are:
- Track time you spend on different activities. See the apps and websites you're spending the most time on. Improve your time management.
- Get weekly visual breakdowns of your activities.
-  Manage time in a Calendar. View all your time entries as time blocks in it. Get to know when you have gaps in a day. Understand your work patterns on a daily basis to improve them.
- Use the app in your native language.
Website: clockify.me
Best use case: Get the analytics of where you spend your time. Improvise it to increase your productivity.
6. Loom
Loom is a video-sharing app. It isn't like Zoom or Google Meet, because it is one-way. You can use loom to record quick videos of yourself and the content on your screen. The video gets uploaded to the cloud. You get a shareable link to share it with your teammates.
Website: loom.com
Best use case: Record thoughts at work in less time to explain something or provide feedback.
7. Carrd
Carrd allows you to design one-page websites in under 10 minutes. No coding knowledge is required. You can use it to build a landing page, personal profile, or to present a case study. Or something that requires only a one-page website - e.g. To test MVP.
Some features of Carrd:
- Start with dozens of templates. Build on it.
- It's responsive. Carrd websites fit in every screen size - from phones to tablets to desktops.
- Integrate email software like Mailchimp to collect emails.
- Embed links from third-party sites like Stripe, Calendly, Typeform, etc.
Website: carrd.co
Best use case: Use Carrd when you don't need to design a complete website. A one-page website would get the job done.
Carrd Tutorial: How to make a good Carrd
8. Clickup
Clickup is a project management tool. It places all your work in place: Tasks, Docs, Chats, Goals, and more. No more need to hop here and there to check-on things. If there's one project management app you need, it's Clickup.
Features include:
- Plan, track, and manage any type of work.
- Provides real-time chat. You can tag individuals or groups. Comment to get a task done.
- Set targets for task completions. Keep a record of your objectives with Goal Folders. Track progress.
- Track what tasks you've to do. Update workflows on a Board. Drag-and-drop dates on a calendar for reminders.
- In-built docs and whiteboards.
- Import your existing work from other tools to get started with ClickUp.
Website: Clickup
Best use case: If you ever wanted Slack, Docs, Google Workspace, MS Teams to use as one app, this is your chance.
9. Moodly
Background sounds affect your work. Moodly lets you mix nature sounds and use them as background sounds.  You can mix rain+campfire sound. Or birds chirping+farm+wind sound. Curate your own playlist.
Tune out other noises. Play the sound to have a moment of calm and to re-energize.  Personalize your virtual environment with these sounds.
Website: Moodly
Best use case: To focus and relax your mind.
How to use it: Tap on the sound you want to play
10. Email this
Does this happen to you? You come across interesting articles every day. But, get caught up in tasks and forget to read them. How about saving them to your email inbox for later reading?
Email This does this for you. It removes ads, distractions, and annoying sidebars from the web page. You get a clean, readable view of the article in your email box. Read it whenever you want.
You don't need to sign up. Install the plugin. You're set. You can even access the bookmarks offline on your mobile phones. Other features include:
- Save an article with one click.
- Add notes and keywords to your saved article.
- Include a PDF snapshot of all web pages.
- Free to use
Plugin: Email This
Best use case: Bookmark any article to receive it directly in your email inbox.
How to use it: Install the plugin. Right-click on any article and select Email This. The article will land in your inbox.
11. Headspace
Remote workers feel burnout and face mental health issues. It's essential to unwind and reduce anxiety. Positive mental health increases productivity, focus, and job satisfaction.
Headspace helps you do that. Access hundreds of meditation and exercises to reduce stress. You can browse its library to find helpful sessions designed by experts. Listen to it anywhere.
Headspace researched on its users and found the following:
- 31% decrease in anxiety in under 8 weeks.
- 32% decrease in stress after 30 days.
- 22% increase in focus after 1 session.
- 40% decrease in depressive symptoms after 8 weeks.
Website: Headspace
Best use case: To better your mental health.
12. Freedom
Distractions surround us. Social Media. YouTube. Websites. It doesn't let us do deep work. Enter Freedom. It lets you control distractions and focus on your work.
Freedom blocks distracting websites and apps. Other apps block distractions only on the device you're currently using. But, freedom blocks them on all your devices simultaneously.
All you have to do is choose the sites/apps you want to block and set the schedule. Freedom users have reported 2.5 hours of productive time each day.
Website: Freedom
Best use case: Block what you want, when you want, and be productive.
13. Habit List
"We are what we repeatedly do. Excellence, then, is not an act, but a habit." - Aristotle.
Habits make us. If you want to be productive, setting a goal isn't enough. You've to set a habit. Be consistent. Stay focused. That's what Habit List helps you to achieve.
It motivates you, helps you stay focused, and keeps you on track. Create good habits. Break bad ones.
Some of its features are:
- Track things you want to get done each day. Habit List shows you the tasks that are due for today.
- Provides streaks.
There are 4 badges to motivate you.

a) Red badge - This shows you've missed the task and need to get back on it.
b) Yellow badge - This shows up after a streak ends. It reminds you to build a new one.
c) Grey badge - These tasks are optional. You can miss them.
d) Green badge - It indicates you have to complete the task today.
- Frequent reminders.
- View trends of your habits. See your progress.
Website: Habit List
Best use case: Building a habit system to use daily to achieve your target.
How to use it: Download the app. It educates you.
14. Screening by Mental Health America
Remote work is causing mental health issues. But, often, we ourselves don't know if we're going through it. Knowing that you're suffering from mental health problems is the first step to curing it. Mental Health America has a free online screening test.
You can screen yourself. It'll let you know if you're experiencing any issues. There are different tests available such as:
a) Depression test
b) Bipolar test
c) Anxiety test
And many more.
Answer a few questions. The site gives you the result. This isn't it. It also provides you with resources and tools to improve your mental health. But, we still recommend meeting a mental health specialist for your recovery.
Website: Screening
Best use case: To check if you're suffering from any mental health issues. Don't depend on it to solve it. It's only for the screening process. Meet a specialist doctor for the solution.
15. Todoist
Todoist is a to-do list and task manager. It's like if you hired a person to help you remember important tasks and get them done. You can free your mental load and organize all your tasks in one place on Todoist.
Some features of Todoist:
- Organize tasks. Get an overview of everything you need to do and not feel overwhelmed.
- Divide tasks into priority levels. You can set a reminder of your time-sensitive tasks.
- Delegate your workload.  Todoist sends you a notification when people post comments, or complete the task.
- Use labels and filters to build a personalized workflow.
- Set daily and weekly goals. Know where you stand through the daily report.
- Connects with apps like Google Calendar, Dropbox, Zapier, and other files.
Website: Todoist
Best use case: Whether you manage a project, set an exercise routine, or want to set reminders, Todoist can help.
16. Bit.ai
Documentation is key to remote work. You can preserve information for anyone to reference later. Like company culture, communication guidelines, and other policies. How do you do that? Bit.ai helps here.
It's a document and workplace collaboration platform. You can create, collaborate, and organize all your knowledge in one place.
Create notes, knowledge bases, and project guidelines. Integrate with the apps you work with one click. You can use it for both individual and team purposes.
Bit.ai features:
- You can add visuals, videos, file attachments, and more.
- Anyone can co-edit and comment in real-time.
- Track how much time team members spend on the document, how often they come back, how far they scrolled, and more.
Website: bit.ai
Best use case: Use bit.ai to document any repetitive information you will always come back to.
17. InVision
InVision is for designers. It's a prototyping and visual collaboration tool. Designers can create mockups for their designs. You can use it to brainstorm design features with your team. Discuss the mockup with live comments. Execute the feedback in real-time.
InVision features:
- It mimics actual web experience. You can create things like menu buttons, tooltips, and hover states for buttons. So, you can test the mockups with clients/users and take their feedback.
- Anyone can highlight design changes.
- Team members can discuss various design possibilities and create a to-do list.
- It keeps a record of past design iterations. So, you can access it anytime.
- It has a live share option. Each collaborator gets their own mouse to point their suggestions.
Website: InVision
Best use case: Design collaboration for scale.
18. HazeOver
This is repetitive: You're concentrating on your current task. But, distractions like countless tabs and managing multiple windows don't let you do it. All those tweets, emails, and notifications kill your focus. No more.
HazeOver lets you focus on your current task. You can give attention to what's important in the present moment and get the work done. Trim all distractions.
HazeOver features:
- It highlights the one window you're working on. The rest fades away in the background.
- Spend less time managing windows. Remove all the clutter.
- Helps you do one task at a time by focusing on what you want to do.
Website: HazeOver
Best use case: Cut down on all the distractions to do the current work.
19. Timezone.io
Remote companies have workers spread across the world. Many companies even have nomadic workers. They keep changing the location of their work. It's difficult to track the local time of your global teammates.
Timezone.io makes it easy. It lets you know which cities your teammates currently are in and the local time. You can plan your meetings accordingly.
Know which colleagues are in their working time and available to discuss projects. Save yourself from googling different time zones now and then.
Website: timezone.io
Best use case: Keep track of the place and local time of your team,
20. Gather
Remote work should be fun. It shouldn't be all about working alone.  Gather connects you with your teammates to host events and parties. Or you can come together to play games.
You can create your own work setting. Want to work in a space station? Watch YouTube videos with your teammates? Use Gather to customize your space in a few clicks.
Other things you can do:
- Connect with your colleagues for meetings and happy hours.
- Design an exciting venue for attendees.
- Launch birthday parties, product launches, and escape rooms.
Website: Gather
Best use case: Connect with your teammates around customizable spaces. Replicate real-life experience with people.
Try these tools
Being productive is as simple as managing your time better. Try these productivity tools to do it and strike a healthy work-life balance. Enjoy your remote work.
If you like this post, you'll love the ebook I wrote containing 25 productivity tricks used by top professionals to "get more done". You can download it for free!