5 productivity newsletters you should subscribe to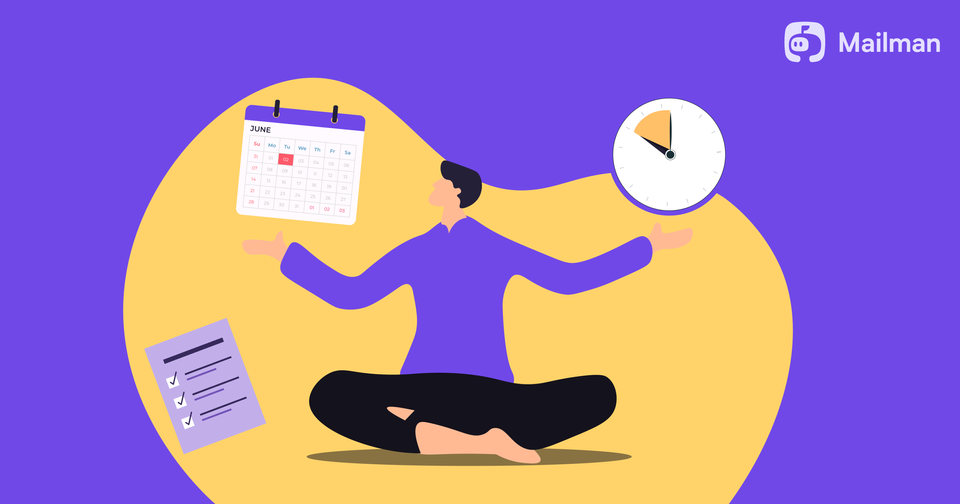 No, productivity newsletters aren't meaningless.
Yes, there are plenty of mediocre ones re-sharing the same advice (Avoid reading them). But, there are a few great ones written by people who have studied human psychology and productivity for decades and share their unique insights. By reading them consistently, you'll learn how to get more done in less time, fuel your creativity, and design your life better.

5 productivity newsletters for you:
1. Farnam Street
Topics: Mental models, decision-making, and actionable insights for work and life.
Subscribe: Website
Rating: 5/5
I'm a regular visitor to the Farnam street website. It helps you "master the best of what other successful people have figured out" through articles, podcasts, and courses. It also has a weekly newsletter - Brain food - you can subscribe to receive actionable ideas and insights you can use for productive work.
Topics include - but are not limited to - how to avoid common traps, sharpen your thought process, design a successful life, and more. Don't worry. You won't be bored with the regular cliché advice. The team distills practical insights from successful people and shares them with 400,000 newsletter subscribers.
Here's an example of the newsletter issue:
2. Super Organizers
Topics: Work and life productivity advice, tools, and lessons.
Subscribe: Website
Rating: 5/5
Every is a collection of newsletters (topics include: business strategy, productivity, culture, and leadership)—one of which is Super Organizers (I love it!). Super Organizers is a productivity newsletter that talks about how to get your brain back, walking as a productive system, contrarian topics like against IKIGAI, and more.
Unfortunately, you can't subscribe to Super Organizers without having to subscribe to the rest of the newsletters that come under Every. But you won't regret it. The rest topics (business strategy, culture, and leadership) are equally well-written.
Here's an example of the newsletter issue (titled The CEO of No):
3. The Maker Mind
Topics: Neuroscience-based productivity tips
Subscribe: Website
Rating: 4.5/5
If your mind isn't in a healthy state, no productivity techniques will work. You should understand how it works to get the most out of it to be productive. That's where the Maker Mind newsletter comes in.
"Maker Mind is your weekly dose of mindful productivity. Discover neuroscience-based strategies to cultivate your curiosity, maximize your productivity, and dare to create. By subscribing to Maker Mind, you'll receive original, evidence-based articles to increase your creativity and productivity.
All the articles are written by people who are part scientists and part makers, such as Anne-Laure Le Cunff (ex-Googler turned founder and Ph.D. researcher) and Dr. Hannah England (former NHS doctor turned freelancer). The strategies you'll learn about are based on scientific research and their hard-earned experience."
Here's an example of the newsletter issue (titled From productivity porn to mindful productivity):
4. The 3-2-1 Newsletter
Topics: Habits, work productivity, and life advice.
Subscribe: Website
Rating: 4.5/5
"Happy 3–2–1 Thursday,
Here are 3 ideas, 2 quotes, and 1 question to consider this week…"
That's the opening of James Clear's (NYT best-selling author of Atomic Habits) world-famous newsletter that he sends to 1 million subscribers every Thursday.
Each email has 3 new ideas from James (related to productivity and living better), 2 quotes/insights from other successful people, and 1 question for you to reflect on.
Here's an example of the newsletter issue:
5. Forte Labs
Topics: Productivity and how to organize information and learn better.
Subscribe: Website
Rating: 4/5
Tiago Forte has spent 10 years researching better ways to learn and work to thrive at work. And through that, he has helped thousands of people get more done in less time. He shares his secrets through this newsletter.
"Every Tuesday, Tiago Forte will send you new essays, videos, event invites, and other resources designed to level up your productivity and life."
Here's an example of the newsletter issue (titled Theory of Constraints 101: Applying the principles of flow to knowledge work):
Those are the 5 newsletters that are consistently good & worth a subscribe!