Living by the calendar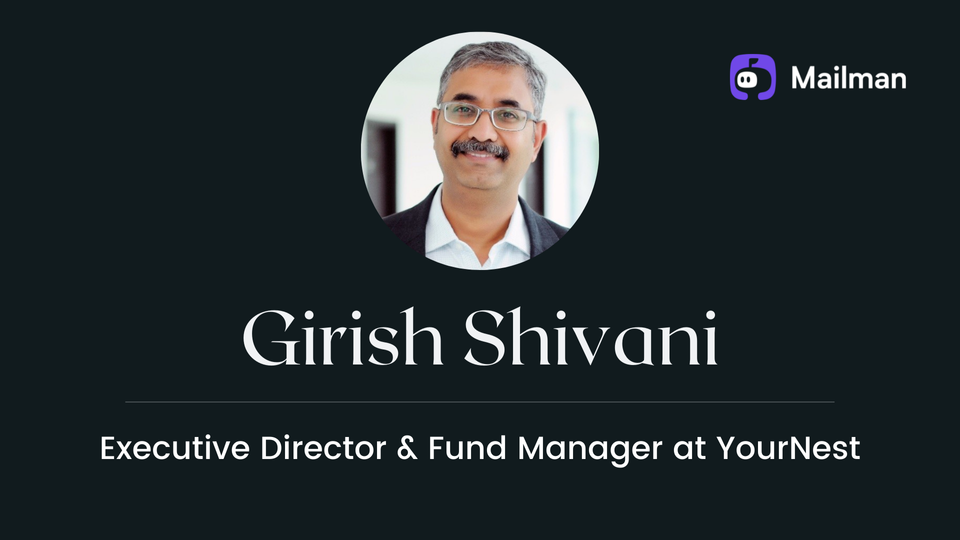 "I'm completely driven by my calendar. What that means is, if a meeting does not show up on my calendar, chances of me showing up for that meeting are 0." That's what Girish Shivani of YourNest had to say when asked about how he manages his time at work and in life. He said it with a sense of pride, as living by the calendar requires punctuality and discipline. He's been doing that for years now, which is commendable, to say the least.

But for Girish, living by the calendar is also a requirement. He has to clear out 200 to 300 deal flow meetings of founders pitching their company to YourNest every month. Although he has a team of 2 to manage all that, it is still a mammoth task.

If you're thinking Girish only uses his calendar for work meetings, you're wrong! Even his family, children, and even his house help have to block time on his calendar to get his time and attention. That said, his calendar is open for all. Whoever blocks it first, gets it.

He can't imagine having to function without the calendar, it has almost become a way of life for him and there's a lot of good in it. You'll only get better and more disciplined at time management with this approach.

Besides living by the calendar, Girish also shares the interesting story behind starting YourNest, his typical workday, conducting meetings with checklists, taking 5 days off at the start of every quarter, his love for fiction books, and his unique perspective on mistakes.

Let's dive straight in!

Girish introduces himself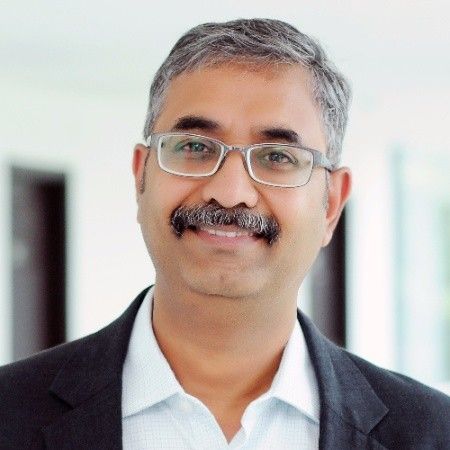 Hi, I'm Girish Shivani, one of the founding partners at an early-stage deep tech fund called YourNest. We invest in primarily IP-led opportunities, typically giving the first round of institutionalized capital to startups founded by passionate founders. Before investing, we make sure some amount of revenue validation has already happened, which means you have some big customers. Most of the startups we invest in are focused on the B2B side, we don't understand the consumer side as much so we kind of stayed away from that. Our sweet spot is 0.5-1 Million to start with and then we can go up to 4-5 million dollars as well.
Within the YourNest framework, we are 5 partners, I primarily manage the entire deal flow. For me, one it's passion, two it keeps my learning curve really steep in terms of interacting with new entrepreneurs trying out new ideas, and getting them to a stage where they become investable from our fund. That's broadly what I do.
On being driven by the calendar
I'm really driven by the calendar, without which I cannot function. There are so many calls, meetings, follow-ups that are happening during the week. We also have a very large deal flow, so at any point, we get 200-300 deals a month. We typically eyeball all of them, that's the process we have built internally.

Since I am so occupied with calls and meetings, I'm completely driven by my calendar. What that means is, if a meeting does not show up on my calendar, the chances of me showing up for that meeting are 0.
If somebody wants my time, they have to block it in my calendar. Whether it is for work or family, or even my house help. The calendar is open for all and it's first come first serve. Whoever blocks it first, gets it.
Background story leading to YourNest
I'm basically a Delhi boy. I went to school at Mother's International. Then I went to St. Stephens for my Computer Science graduation. I was a part of the 2nd batch of CS graduates to pass out from Delhi University. Those were the days when you'd switch on the computer, it'd be a green color screen and then you could go have a cup of coffee before the cursor will come up! *laughs *
We were doing COBOL programming at the time and there used to be errors, the error list would be 25 times the length of the total program. You could put that error list in the corridor, go through them line by line and fix those errors. I belong to that time.
That being said, it was clear in my mind I did not want to do engineering. So I went and did an MBA in finance from the Institute of Management Technology (abbr. IMT). I was probably the only non-finance guy in IMT, yet I was the finance topper at IMT as well.
From there my professional journey started, so at the time Bombay (now Mumbai) was the Mecca for finance. I wanted to work in Bombay, not in Delhi. The day the first company came to recruit from Bombay, I got placed. I worked for 3.5 years there in financial services.
At the age of 25, I was handling a 50 million dollar family office fund set up by a Gujarati family in Bombay. That was probably the first family office in the country to trade.
Bombay was a very difficult city to live in, it's very professional but generally speaking, I wasn't very happy with the quality of life. The first opportunity I got, I came back to Delhi. Incidentally, that was also the time I was getting married in 1996.
I joined Dabur Finance as Head of Strategy in Delhi. That's where I met Sunil, who's my partner at YourNest, he was Head of Strategy at Dabur India. We overlapped working there for a few years.
Then I moved out and ended up at Airtel. This was the early 2000s and Airtel at the time was looking to expand its footprint. They were looking for someone with a numbers background in their marketing department. That's because a lot of work that happens in marketing is a very number-centric media planning, forecasting, segmentation, etc.
I joined the marketing department at Airtel but with a clear focus on my numbers capability that I would leverage. As luck would have it, after 8 months, Sunil also joined Bharti as Executive Assistant to Sunil Mittal and Head of Investor Relations. We again overlapped for 4 years.
Then I moved out and spent 15 months at Times of India, where I was the Executive Assistant to the Vice-Chairman Sunil Jain. I was part of the core team which built the entire brand capital thesis.
Then I landed up at Teradata. The story goes, at Bharti, I was a sponsor for the Data warehouse. Bharti actually set up the 1st Data warehouse in this country. In 2004, when that Data warehouse was set up, we were ingesting a billion CDRs every day. So because I was heading that team and when I moved out Teradata was chosen as the platform of choice for the contract.
The consultant who was deploying the Teradata business warehouse at Bharti left. The country manager, who at the time was Amrish Rao (now heads Pine Labs), called me and said, "there's a 5-year roadmap that you had developed for Bharti, now come and deploy it from the other side of the table.". That's how I ended up in Terradata. This was in 2005. Then I worked for 7 years at Teradata, so till 2012 when we started the fund I was at Teradata. I started at Teradata as Industry Consultant, by the time I left I was Telecom Consulting Practice Lead for South-East Asia and I used to head pre-sales for the country.
In the meantime, Sunil also moved out from Bharti in 2011. In his last project, he was "Director for Special Projects" in Africa. When he came back to India in April 2011, he updated his LinkedIn profile saying he wants to do something in the early-stage technology space investing in India.
You can call it serendipity that I was looking at LinkedIn and found his profile. I picked up my phone and called him at around 9:30 in the night. After catching up he told me that he and Sanjay, my 2nd partner, had already signed up to do this. They were planning to build this fund and were looking for someone with technical chops. They had met a few people, but it wasn't a fit.
So we decided to meet in Delhi at Coffee Beans and Tea Leaves (CBLT). So we landed at CBTL at 9 in the morning and these guys were still cleaning the place, the place was not open so they told us to go sit in the corridor. In the 1st week of June, in the sweltering heat, 3 guys sitting in the corridor and having a chat was how this whole thing happened. We chatted for a few hours, shook hands, and moved on. That's the genesis of how everything came together to make YourNest happen.
The fund came to life on 26th March 2012 and we made our first investment on the same day.
Typical work day
My day starts at 7 in the morning unless I have a call and I've to get up at 6 in the morning. I still read a newspaper, I like the feel of paper in my hand early in the morning. My work starts at around 9 O'clock.
When we were working from the office, I used to leave for work at 9. Now since we're working remotely, at 9 the laptop is up and about. Emails get cleared by 9:30-9:45. By 10 the day starts from a meeting perspective.
I typically clear out the deal flow on Saturday and Sunday. Based on that the meetings for the next week are set up. Meetings range from follow-up meetings with companies we have spoken to, portfolio reviews as I sit on boards of companies, fundraise meetings. The calendar gets fairly choked in with all that.
My typical workday ends at 4:30 or 5 in the evening, this was at least when we were working from the office. After office, I would step out, go to Siri Fort, walk, go to the range, get back home, have dinner and then work starts again at about 9 O'clock.
Between 9 and 10, I clear the backlog and get set for the next day. At 10:30-10:45, lights out in the sense- no more screens. I would typically read for some time before sleep and by 11:30 I'm off to sleep. That's a typical workday.
Meetings with checklists
For every meeting I do, I have a checklist that needs to be covered in that call. Between 2 meetings I'll definitely keep 15 minutes, if not 30 because meetings over-extend sometimes. That's because there's no point leaving things hanging if they can be closed by extending the meeting by 10 minutes.
Having a clear agenda and a decent cushion for every meeting is the only way it can work for me. We also record and transcribe all our meetings for later reference.
Resting
I have my evening walks and go to play golf once in a while. Afternoon naps on weekends are de rigueur, I can't function if I haven't slept in the afternoon on Saturday or Sunday. My phone is literally silent on weekends, so if somebody wants to call me on a Saturday afternoon, they'll not get to me.
Taking 5 days off at the start of every quarter
I've been fairly disciplined in getting my "me time" always. Like when I was at a Teradata, we used to get 5 days off at the start of every quarter. I liked that practice so I do it even now, I take off for some days at the beginning of every quarter and it's not necessary that we go out on a vacation. It's just time for me to refresh and reboot. I've been doing this practice for 16 years now.
Getting the creative juices flowing
I read a lot. I'm a self-confessed information junkie. Even during the day, between meetings, I would generally read. Having all that information flowing helps my creative juices flow.
Speaking beyond that, my work isn't really creative by definition. For me, creating something from scratch is difficult, but if there's a draft then I can add to it and polish it. I'll do it if I have to, it's just not something I enjoy.
Reading only fiction books
For me, when I'm unable to sleep, I pick non-fiction and I'm knocked out in 5 pages. I've got 'Atlas Shrugged' by Ayn Rand on my side table for 18 years now and I've not even reached mid-way, so you can imagine.
These days I'm reading a book "Stories that Work", an interesting book about storytelling but honestly I'm struggling to get through it.
I prefer fiction more. I have the entire collection of Ludlum, Archer, Robin Cook, Alistair MacLean, you name it.
For the past 3-4 years I've been reading on a kindle, before that I read paperbacks. But every now and then I'll go and pick a paperback to read.
What you see is what you get
I'm a very straightforward person. If I want to say no to a meeting I'll say no. There's no beating around the bush. Why waste someone else's time and my mental bandwidth to come to a conclusion 2 weeks later that it won't work.
It is the same with my deal flow calls too. If somebody who is pre-revenue is asking for a 25 million valuation, I'll say no. I say, "thank you, all the best, and hope you find an investor" and that's it.
Perspective on mistakes
To me, mistakes are learning. If you don't learn from a mistake, then it's a mistake. Everyone's allowed a few mistakes. But you're not allowed to make the same mistake twice, because that means you didn't learn the first time.
My team knows it, 1st mistake no problem, the same mistake again and you'll face hell laughs. Otherwise, how do you grow? Mistakes help you grow.
We have made many mistakes- passing on great investment opportunities, missing opportunities to work with great people. But a mistake is a mistake only in hindsight. It won't feel like a mistake when you're doing it. A lot of people don't get that. Many mistakes in hindsight were probably the right decision at the time. So as long as you're learning from mistakes, there's no point fretting about them.
One extra hour
If I get one extra hour, I would spend it reading. One good thing Mailman has done for me is it has helped me structure and categorize all the information that comes in my inbox, so I get all emails from The Ken, Economic Times, VC circle, Inc42 in one place. It's all information and news. With that one extra hour, I would read more stuff like that.
How to get in touch with Girish?
If you're someone who wants to pitch their company to us, you can visit our website YourNest.in, there's a button for submitting your application. You will get a guaranteed response in 10 days.
If you want to reach out to me, I'm at girish.shivani@yournest.in. I respond to every mail, I make sure to clear my inbox before I call it a day.