5 remote tools every remote worker must use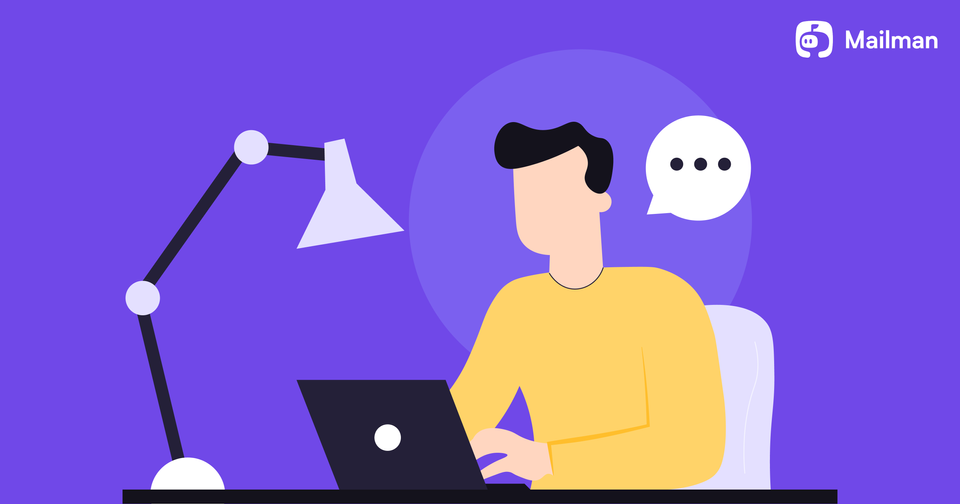 Like how Captain America uses a shield and Thor uses a hammer to become the best at what they do, even you need some tools to become a productive remote worker. Here are the five tools that are a must-have:
1. Mailman
Email is the backbone of remote communication. But, many of us find ourselves constantly over-checking emails to send and receive messages. This distracts us from our current work and makes it difficult to refocus (research suggests it takes ~25 minutes to refocus after a distraction. That's a lot of wasted time).
Mailman is the antidote to this. It's a Gmail plugin that allows you to control when and what emails should land in your inbox.
How Mailman will help you:
a) You can preset a Do Not Disturb mode. Choose a time slot you don't want to receive emails. Mailman will pause all emails during that period. Enjoy your deep work.
b) Set timely intervals and receive emails only during that time. For example, if you want to receive emails only during the afternoon (2-3 pm) and evening (7-8 pm), you can set the conditions accordingly. The rest of the time, you will have zero messages in your inbox—so you don't get overwhelmed and can focus on your work.
c) You might be thinking, "OK, getting messages during a certain time is good, but there are a few emails I'd like to receive as soon as they are sent." Mailman has this covered. You can save a VIP list— a group of important email senders, keywords, and domains—and Mailman will allow you to read these emails as soon as they are sent (yes, you can bypass the filters).
d) Block spam and unknown senders that suck your time. Mailman will provide you with a daily digest of all the blocked emails. You can even unblock them if you want to.
Pricing:
Check out Mailman
2. Krisp.ai
Krisp is one of the best meeting tools you'll ever invest in. It removes background noises (traffic noise, sound echo, baby crying, and other sounds) from meetings, leaving only human voices. Great, isn't it?
How Krisp will help you:
a) Eliminate background noises from your microphone and speaker, ensuring distraction-free calls.
b) Remove background voices from other people speaking in the room based on your voice pitch.
c) Eliminate echoes bouncing off of the walls and those resulting from your voice or a sensitive mic.
d) Review helpful insights after your online meeting—including duration, Talk Time, and the amount of noise canceled—to assess your performance and evaluate the effectiveness of the meeting.
e) Pair Krisp with 800+ apps like Discord, Zoom, Slack, Google Meet, and more.
Pricing:
Check out Krisp.
3. Todoist
Todoist is the "world's #1 task manager and to-do list app." It's a 24/7 virtual assistant because you can plan all your to-do tasks according to your priorities and get reminders to do them. No wonder why individuals from Apple, Amazon, Shopify, and thousands of other companies rely on it to get their work done.
How Todoist will help you:
a) Organize all your tasks in one place.
b) Todoist surfaces the right tasks at the right time for you to do them per your priorities and energy levels.
c) Share the workload with your colleagues by delegating the tasks.
d) Use labels and filters to personalize your workflow. Get reminders of what tasks you have to finish and what are your next week's to-do tasks—so you know what to tackle next and don't leave them for the last minute.
e) Set daily and weekly goals.
Pricing:
Check out Todoist.
4. Freedom
While remote work has some of the best benefits (zero commute stress, increased work productivity, healthy work-life balance, and more), no one can deny the constant distractions. I'm talking about mindless social media, YouTube, and internet surfing. You waste hours on these apps (and websites) instead of focusing on your work. Is there a way out? There is.
Freedom blocks distracting websites and apps until you finish your work. 2,00,000+ people use it to reclaim work focus and productivity by blocking social media, shopping, video, and other distracting websites. "Freedom users report gaining an average of 2.5 hours of productive time each day."
How Freedom will help you:
a) Select the device you want to block websites and apps on. Then, set a schedule, and enjoy a distraction-free digital environment to do your work.
b) Apart from websites and apps, you can even block the whole internet with the click of a button.
c) Block websites simultaneously across all your devices (mobile, laptop, and tablet).
d) "Select websites and apps from our preset lists or create an unlimited number of customized blocklists to suit your different situations. With Website Exceptions, you can even block all websites except the ones you need so you can focus on your work."
Pricing:
Check out Freedom.
5. Gather
Lack of social interactions and team-building activities are the most touted downsides of remote work. I agree. Social interactions and personal conversations with colleagues increase trust and work collaboration.
Enter Gather. 10,000,000+ employees from companies like Notion, Y Combinator, Yelp, and thousands of others use it for team bonding. You can host brainstorming sessions, events, parties, and game sessions.
How Gather will help you:
a) Host meetings: Collaborate on a project over a video meeting, play games, watch live streams, and more.
b) Connect with your colleagues for meetings and happy hours.
c) Design an exciting venue for attendees to interact with speakers and participate in workshops.
d) Revive classes, office hours, and study sessions with collaborative objects and private group areas.
e) Celebrate birthday parties, product releases, work anniversaries, and other milestones.
Pricing:
Check out Gather
What are remote tools that you use and recommend to everyone? Share with us here.