Pomodoro Technique: What it is and how to use it to increase your productivity?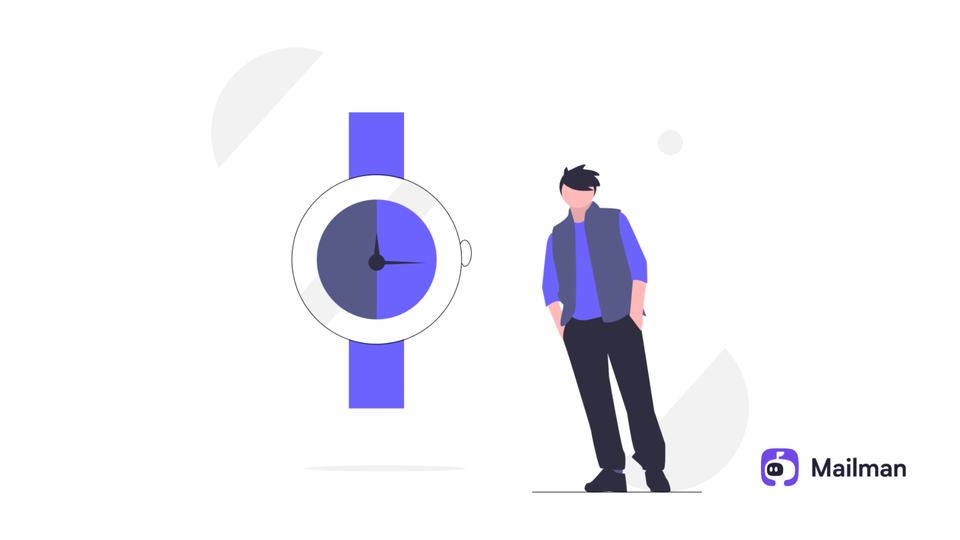 I don't invest much in productivity hacks. Instead, I just schedule my day in advance and go on about my work. That keeps me away from the latest fad and gets things done.
But, after listening to the superfans of The Pomodoro Technique, I decided to give it a shot. Turns out, I love it and needed it to boost my productivity.
It has allowed me to do deep work, get more done in less time, and avoid work stress.
The Pomodoro Technique is for you if you……
a) Procrastinate all day.
b) Are distracted and can't complete tasks at hand.
c) Find yourself working all day without any rest.
d) Consistently work beyond working hours and don't have a work-life balance.
e) Want to be creative and get tasks done.
f) Want to be productive without the work stress.
In this article, you'll learn
What is The Pomodoro Technique?
How to use The Pomodoro Technique to be productive?
5 tips to get the most out of The Pomodoro Technique
Let's begin!
What is The Pomodoro Technique?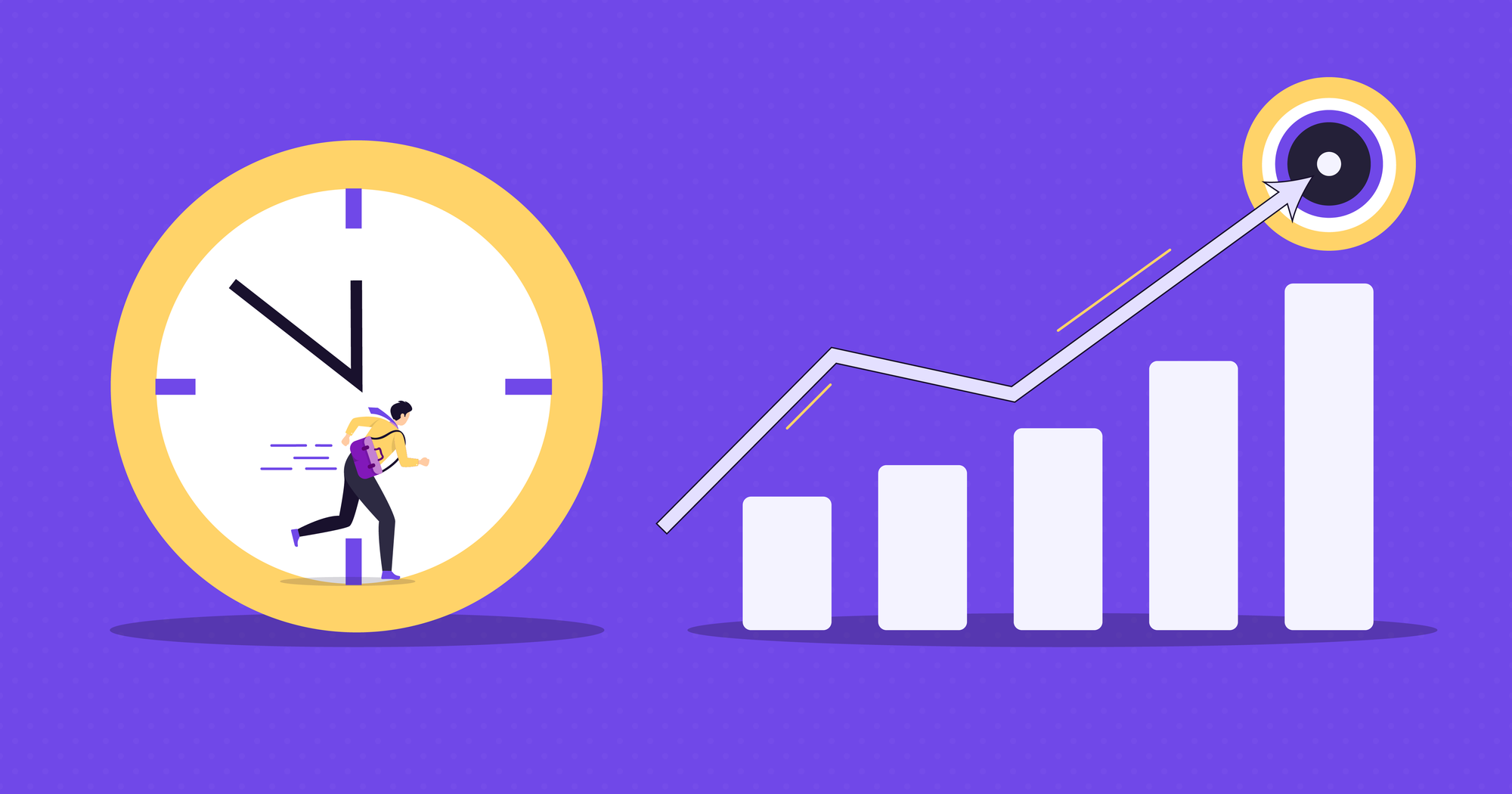 Francesco Cirillo developed the time management system known as The Pomodoro Technique. It involves breaking your tasks into 25-minutes intervals followed by a 5 minutes break. Each time interval is referred to as Pomodoros (Pomodoro is an Italian word for tomato. Cirillo used a tomato-shaped timer, hence the name Pomodoro).
After 4 Pomodoros, you take a longer break of 15-30 minutes.
The Pomodoro Technique is based on the idea of "Work like a lion - sprint, rest, repeat." You give yourself a deadline of 25 minutes to complete a task. You do that. Then, you rest for 5 minutes to re-energize. And work again.
As Naval, founder of AngelList, says,
"The way people tend to work most effectively, especially in knowledge work, is to sprint as hard as they can while they feel inspired to work, and then rest. They take long breaks. It's more like a lion hunting and less like a marathoner running. You sprint and then you rest. You reassess and then you try again. You end up building a marathon of sprints."
How to use The Pomodoro Technique to be productive?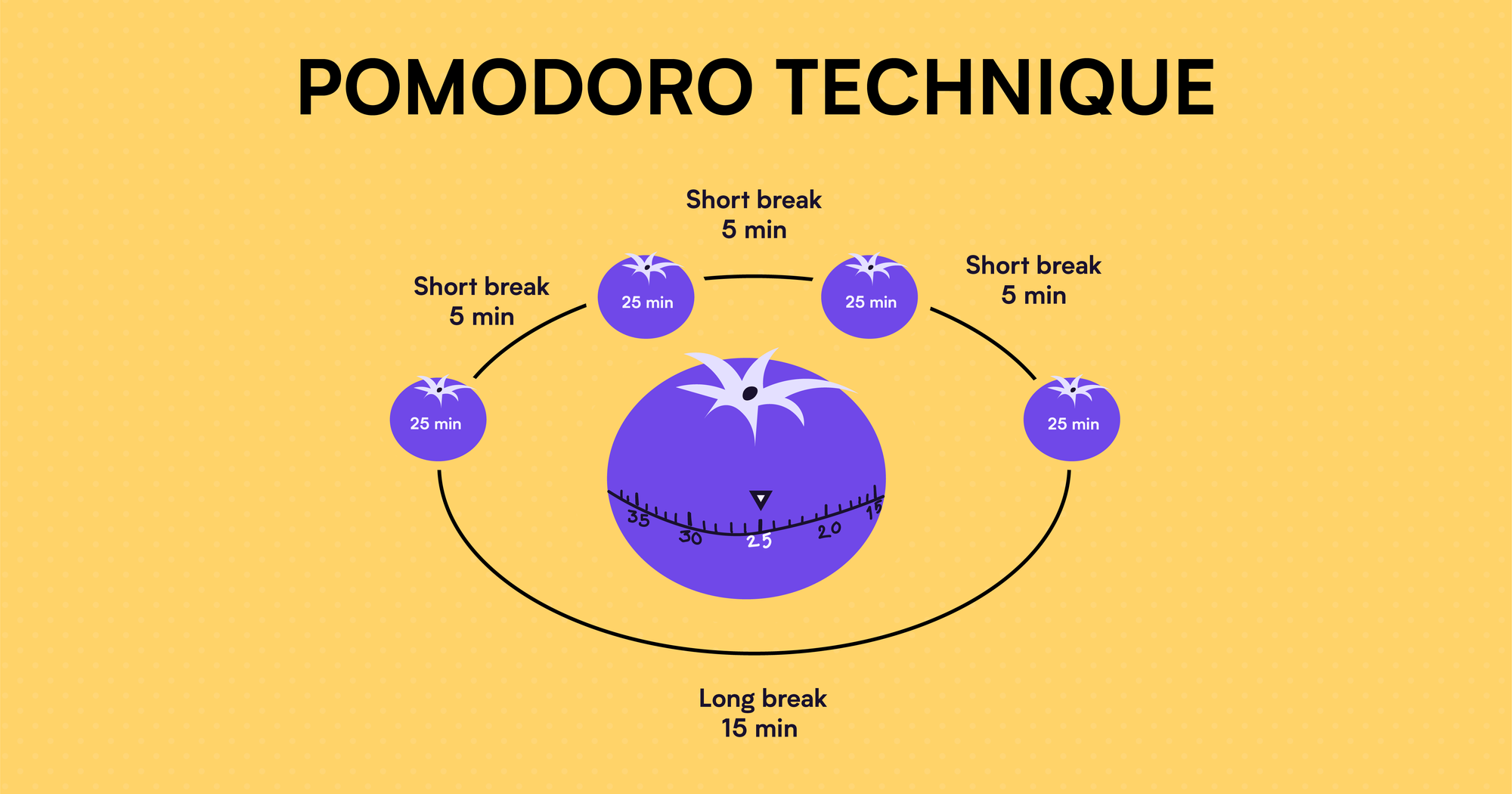 All you need is a timer to leverage this technique. That's it. Use this online Pomodoro time tracker. Then, follow this process:
a) Plan your tasks in advance
Decide one night before the 4-5 tasks you need to work on. Have a clear goal on what you want to accomplish in each Pomodoro. Better yet, write it down.  
Make sure you don't plan more than 5 tasks. That will rob you of your creativity. Plus, this also allows you to prioritize your most important tasks.
Other key points:
- If a task (Example: Writing a 3000-word essay) will take more than 4 Pomodoros, break it down into a small bite-sized step.
- Group 3-4 small tasks that will take less than 10 minutes (Example: Sensing an email or Following-up with someone) to fit into one Pomodoro.
b) Set a timer of 25 minutes
Use the online time tracker or stopwatch to set a time of 25 minutes. Let your colleagues know your working schedule so that they don't distract you.
c) Work on the task until the timer stops
Give your 100% attention to your work. Get rid of any distractions that may block your work routine. Don't stop the task, until the timer beeps.
Don't worry if the task is taking more than 25 minutes. In the beginning, you can take 30-40 minutes to complete the task, until you build the habit of doing it in 25 minutes. But, make sure you're focused during each Pomodoro.
Remember: A Pomodoro doesn't count if you leave the task before the timer beeps. If you do so, you have to start all over.
But, I get you.
There are certain emergencies you can't postpone. You'll have to leave the task at hand to attend to that emergency. Attend it. But, if you can postpone the situation, follow Cirillo's "inform, negotiate, and call-back strategy."
- Inform the distracting party that you're working on something right now.
- Negotiate the time when you can get back to that issue. Schedule a follow-up.
- Call back the other party when your Pomodoro is over, and you can now tackle their issue.  
d) Take a short break when the Pomodoro is complete
Once the timer beeps, stop the work. Take a break of 5 minutes. You can just sit and calm your mind. Reenergize yourself. Avoid using phone and scrolling social media. This will set a reactive chain.
You won't even remember when you went from scrolling Twitter to browsing Instagram Reels to watching YouTube videos.
e) Repeat the Pomodoro 4 times and then take a longer break
After the 5 minutes break, get back to work. It's here where your task planning helps. You'll know which task to tackle next. But, if you didn't plan, you'll spend 15 minutes thinking about what to do next.
Get 4 Pomodoros done.
After that, relax for 15-30 minutes. You can read a book, practice your hobby, or just take a walk.
5 tips to get the most out of The Pomodoro Technique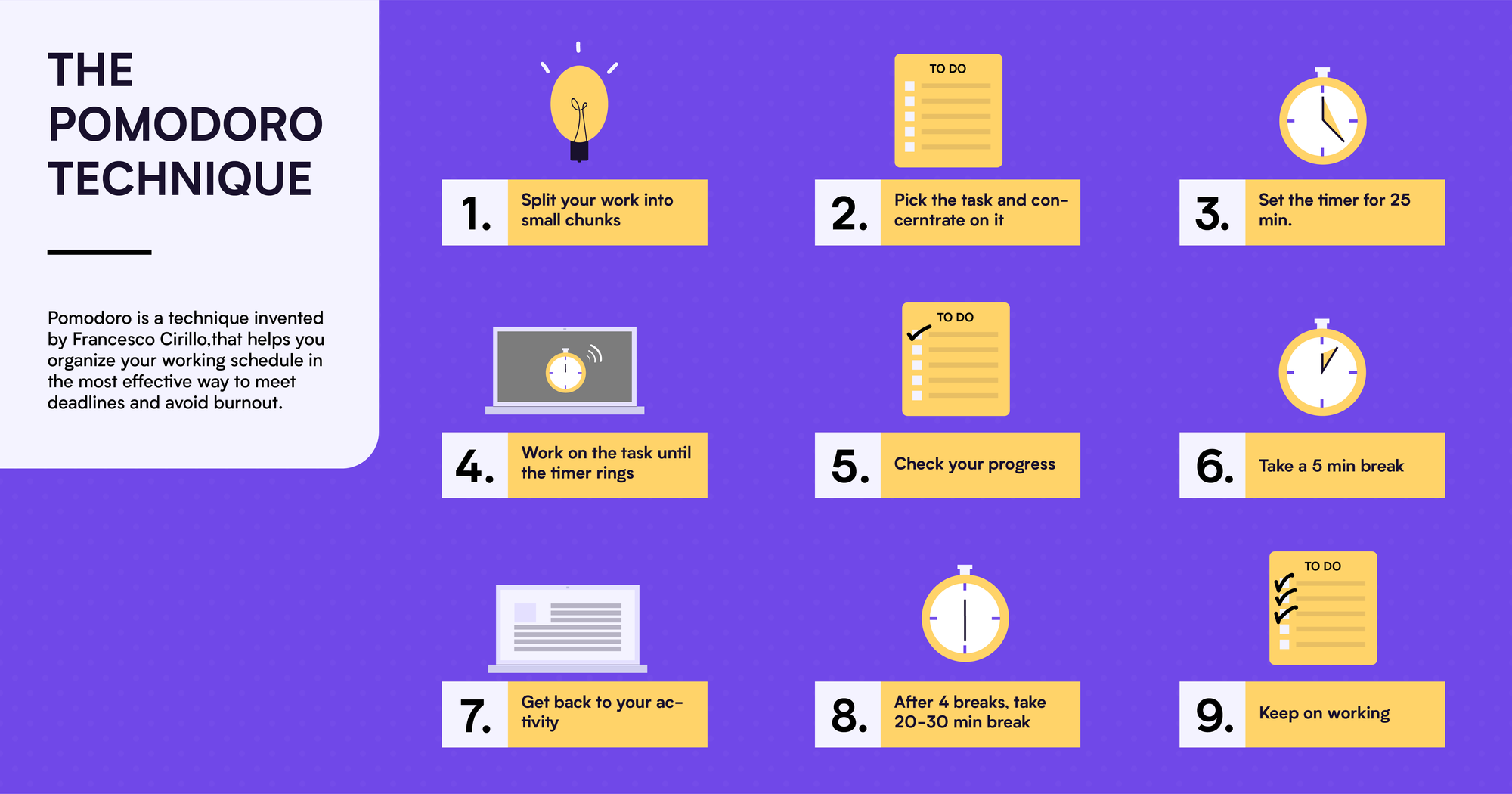 1) Plan your tasks according to your chronotype. That is, observe when you feel the most productive to do your work. Some prefer working in the early morning. Some prefer the nights.
See what works for you. Plan your Pomodoros accordingly.
2) There's no strict rule that each Pomodoro should be of 25 minutes. How much time you should allot to each Pomodoro depends on your work routine.
Steve Lack, a sound designer, and audio mixer, schedules each Pomodoro of 45 minutes followed by a 15 minutes break.
I schedule my Pomodoro for 1 hr each and take a short break of 15 minutes.
Desk time, a productivity app, studied the highest productivity performers. It found 52 minutes of work followed by 17 minutes of break to be ideal.
Decide for yourself what duration suits your work routine. After you have practiced The Pomodoro Technique for a month, you'll get an idea of your ideal time length. Stick to that.
3) Make sure the short breaks are short. Don't take a short break of 30 minutes (after working for 45 minutes). This way, The Pomodoro Technique will boost your procrastination, instead of avoiding it.
It's why it's essential to just relax during the short break. Don't indulge in something that makes your short break a long one.
Be intentional about how you spend your short break.
4) Use technology tools to your advantage
- Use Mailman to pause all your emails while you're working. You can preset a time to receive emails.
-Use Centered to complete everything you've set out to do, faster and free of distractions. You'll "get in the zone" with science-backed Flow music, an AI Productivity coach, a distraction blocker, and more.
- Use Freedom to block distracting websites and apps while you work. You can unblock them once you complete your tasks.
- Use Zapier to automate boring, repetitive tasks. So, you focus on creative and important tasks.
5) You won't master the technique from day 1. That's OK. Review yourself after 1 week. See what's working and what's not. Double down on what's working. Cut down things that are dragging your productivity.
Get more done and boost your productivity using The Pomodoro Technique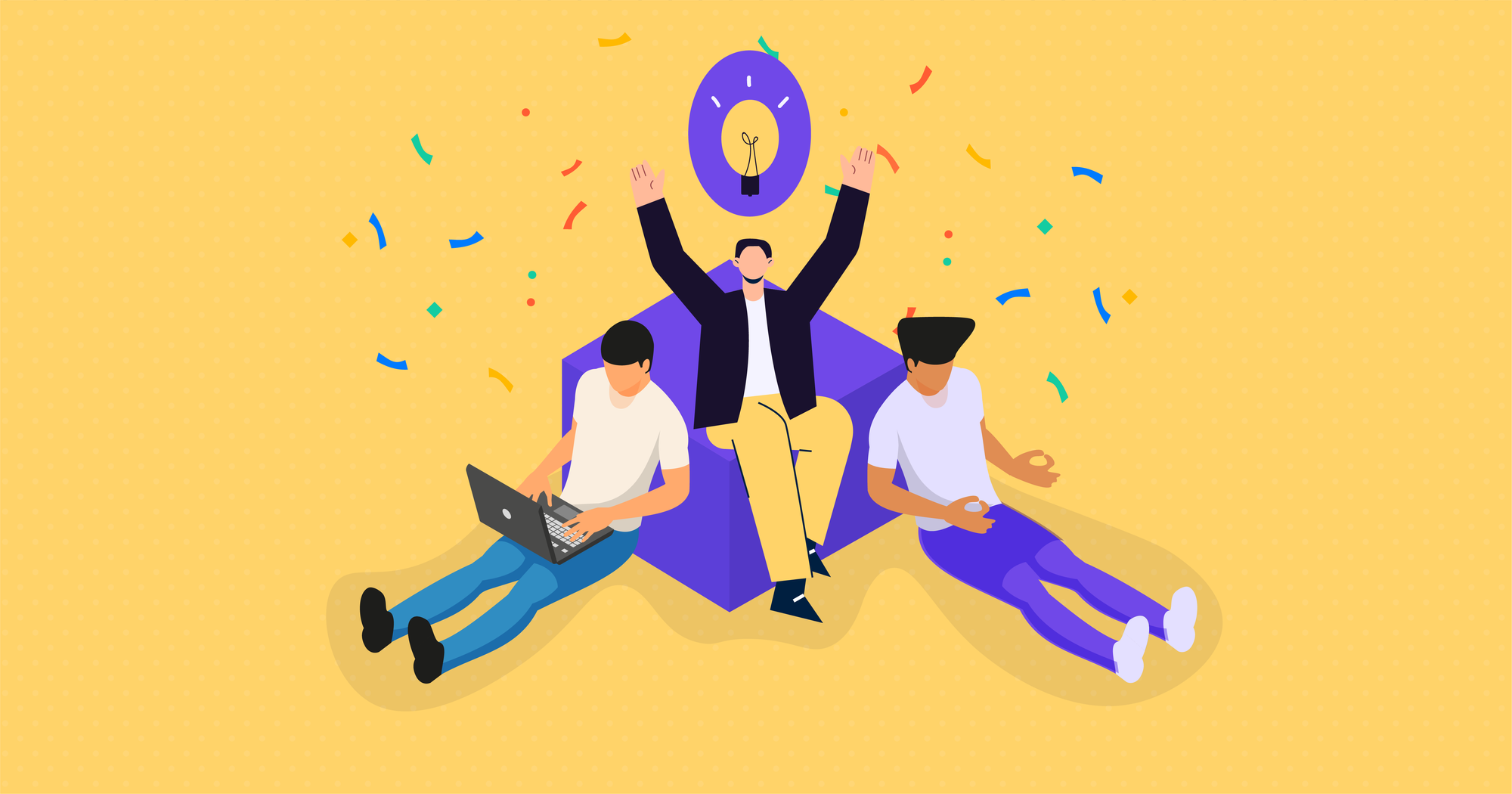 Productivity demands both work and rest. You can't work 24/7 and expect not to feel burnout or work distress. Likewise, you can't rest (procrastinate) all the time and expect to get things done.
Find a balance between work and rest. Productivity will chase you. That's where The Pomodoro Technique comes in. It allows you to complete your tasks without work stress (thanks to the short breaks in-between each Pomodoro).
Use the above guide to get started with The Pomodoro Technique.